By Philippine Leclerc
As the world is entering a new year, set to be challenging on many levels, experts are taking time to look back at the outputs of the progress made in the last couple of years. GreenTec Capital Partners, a German-based investment firm focused on African tech early-stage startups, and a partner of the EMERGING Valley Community, has recently published its 2020 Capital's impact report for the previous year. In this 46 page-analysis, experts are describing the behavior of their portfolio and try to measure the social and economic impact of their investees. An indicator that matters for the Firm, as GreenTec is one of the pioneer investors ready to bet on impact-focused start-ups in Africa! Social and economic sustainability, environment impact, women empowerment, contribution to the development agenda of the countries… are becoming crucial KPIs. StartupBRICS breaks down the 46 page-report insights for you.
GreenTec in numbers
Founded by Erick Yong and Thomas Festerling, GreenTec Capital is an investment firm based in Frankfurt, Germany, which is focused on African Tech early-stage start-ups. Their portfolio gathers 14 companies spread out over 10 countries in Sub-Saharan regions, spanning 7 sectors: agriculture & food, cleantech, fintech, mobility, e-commerce, edutech and enterprise. All of them participate in their own ways to the sustainable development of their communities and can be gathered in 3 different theme groups. Whether focused on sustainable resources, efficiency innovations or future of work, they are all driven by a willingness to grow while improving the living conditions of their peers. Their impact is plural. Each activity generates a social and economic impact on its own, but as it is intertwined in the local ecosystem, it produces a ripple effects that benefits the supply chains, and eventually their countries' development agendas. Over the course of 2019, GreenTec's portfolio supported overall EUR 4.5 M in value added and more than 800 jobs, half of which are held by women. And all of these impressive results are expected to keep on growing! Given the fact that GreenTec invests in early-stage start-ups, their growth potential is yet to be fully reached. In five years, the value added supported is expected to grow by a factor of 10, and the employment by a factor of 3.4.
"The ecosystem of early-stage start-ups in Sub-Saharan Africa is crucial for the growth outlook and diversification prospects of the continent's economy. GreenTec Capital Partners enables the ecosystem's growth by supporting promising start-ups with investments as well as advisory services and execution support."
GreenTec's Value
Unleashing the large impact potential of those entrepreneurs is at the core of GreenTec's commitments. And in order to do so, the firm has developed tailored strategic support. Depending on their needs, GreenTec takes its investees on a transformative journey aiming at reaching the goals set together. It ranges from marketing advice, to financial or technology support, but also acceleration of the fundraising process, and access to GreenTec's network. The startups and their investors are working hand-in-hand, sharing the risk and the reward of their collaboration. GreenTec truly becomes a peer and a partner in this journey.
"GreenTec's strategy consists of identifying early-stage businesses with a strong proof of concept and helping them evolve into thriving sustainable enterprises through a results for equity model."
According to GreenTec, being an impact-focused investor means investing in companies able to combine financial returns to positive impact. Today, such companies represent 75% of GreenTec's portfolio which is a threshold to be maintained in the upcoming years.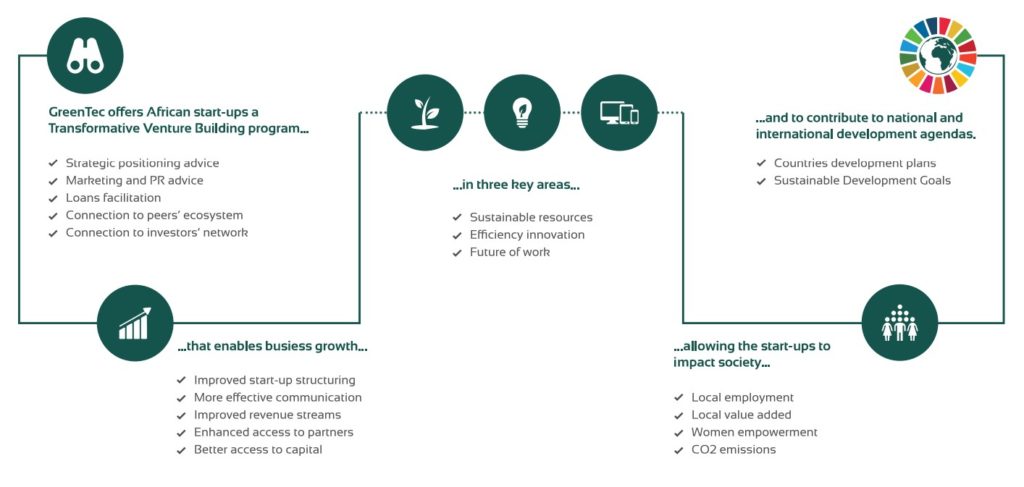 Portfolio's Impact
As mentioned before, GreenTec investees have an impact on many levels due to ripples effect. In order to measure the socio-economic and environmental impacts of their investees, GreenTec relies on 6 indicators:
Value added: sum of the salaries, profits, and taxes
Jobs: number of jobs created in comparison to national employment rate
Jobs held by women: number of female employees
Women founders: number of companies founded by women
Quality of jobs: estimated salaries per full-time employee in comparison to national wages
CO2 emissions: tons of CO2 emitted

It's also important to keep in mind that when measuring the total impact of the portfolio of investments, two effects levels can be distinguished: the direct impact, supported at GreenTec's investee level, and the indirect impact, supported in the value chain via the operations of the investee.

a) Value added: the total value added of GreenTec's portfolio amounts to EUR 4,6 million. 1,5m€ are generated directly by the companies' operations, 2,4m€ are generated by their direct suppliers, and 0,6m€ is associated with the operations of their indirect suppliers. The total value added is the sum of different incomes (salaries, profits, taxes). As such, we can see that salaries represent more than half of the combines incomes, making the households the main beneficiaries of GreenTec's investees' operations.

b) Jobs supported: the investees employ directly more than 210 employees, but regarding their supply chain, they support an additional 670 jobs, resulting in a total supported employment of about 880 jobs.

c) Women empowerment: within GreenTec's portfolio, 5 out of 14 start-ups have been founded by women.
Women represent 25% of direct jobs among all their companies. However, indirectly, investees employ an additional 400 women, summing up the total number of jobs held by women to 450, which eventually represents half of the total number of jobs.
d) Quality of jobs: the quality of jobs is as important as their numbers, as they must be rewarding enough to improve people' lives. To measure this indicator, GreenTec compares the average salaries of the investees' employees to the national average. At an aggregated level, the investees' employees are approximatively paid 6000€ when the national average is estimated at 3400€. Although the situation differs between countries, the portfolio's investees' salaries are significantly above average.

e) Carbon Emissions: the total environment footprint in terms of CO2 associated with investees and their suppliers amounts 1000 tons of Carbone dioxide emissions. Despite this negative impact, a large number of the companies are avoiding emissions through their products and services (e.g: using solar panels).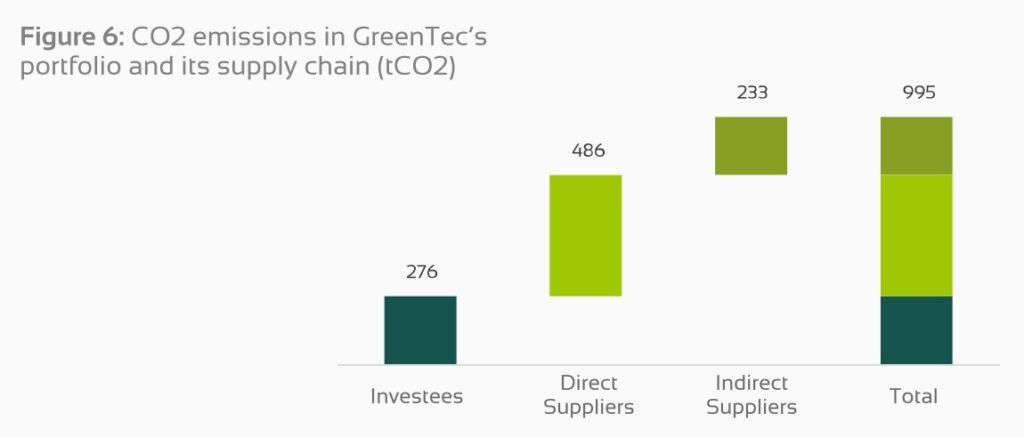 Perspective
Although the current social and economic impact may appears small, GreenTec is expecting to see significant progress in the upcoming years given the growth potential of its early-stage start-ups. By 2024, the total forecasted value added is expected to reach 43 M€, and the total number of supported jobs could reach 3200, with 66% of them occupied by women.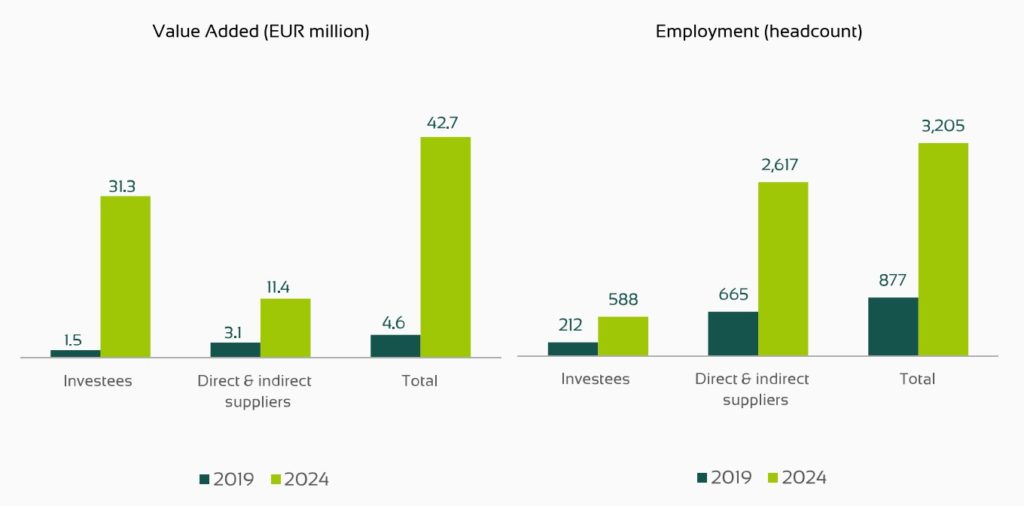 As demonstrated by GreenTec Capital Partners, investing in impact-focused startups and having financial returns can go hand-in-hand. The coaching they provide today to their investees will have long term social, economic, and environmental impacts that will eventually turn into concrete and real positive consequences on the development agenda of the continent. Those impact-focused investors and start-ups appear as the builders of a more sustainable world.
In this period of time where all of our traditional models are being questioned, the committed work of GreenTec Partners is an inspiration for other VCs and stakeholders willing to get involved for impact in Africa.