On February 16th 2016, Finnovista organized its first Fintech (Financial Technology) conference in Bogota, Colombia. Finnovista is an international organization that accelerates the development of startups focused on digital financial services and empowers the Fintech ecosystem worldwide. FinnoSummit brought together 260 participants and 9 startups from all over Latin America. It helped connect all actors of the Fintech ecosystem: entrepreneurs, investors, banks, regulatory entities and blockchain experts. Here are my highlights from the biggest Fintech conference in Latin America – a continent ripe for financial disruption.
Nektarios Liolos – founder of Startupbootcamp Fintech – opened the conference by stating that a lot of the newest innovation in Fintech will come from emerging countries. In Latin America, the potential market for financial innovation is huge with more than 50% of the population unbanked. According to the World Bank Findex 2014 Data, the rate of people with an account at a financial institution is only 38% in Colombia, Mexico and 28% in Peru.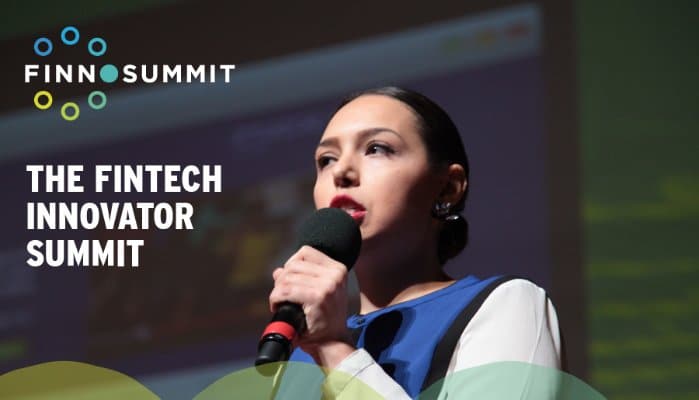 In the morning, the main theme centered around how Fintech can improve financial inclusion in the region. Financial inclusion (a Millennium Development Goal) is a way of reducing poverty and achieving inclusive economic growth through the offer of financial products and services to all the population, especially those on the base of the pyramid. Yves Moury – founder of Fundación Capital –  highlighted the huge opportunity for Fintech startups: offer financial access to the poorest in a region where smartphone penetration is 44.9% according to e-marketer! The rise of the mobile internet combined with a global loss of trust in banks since the 2008s crisis is the reason why everybody wants to be in Fintech and nobody wants to be in banking now. Fintech business models and costs structures allow them to offer products and services with small fees for costumers accessible to most of the population thanks to the widespread use of smartphones. Latin America is a region where trust for financial services has been traditionally low following the debt and currency crisis of the 1980s. The biggest challenge for Fintech startups in Latin America in the coming years will be to (re)build trust and provide financial education through technology.

The team at Finnovista also brought some talented international speakers to talk about the blockchain technology and regulation. Jalak Jobanputra – Managing Partner of PerfectVentures (investors in the African success story M-PESA) flew in from NY to share her thoughts on how can Fintech change by 2020. Juan Llanos – Fintech compliance executive – stated: "Fintech startups should follow the rule of the 3 I's : Innovation, Implementation of controls and Influence to bend the rules".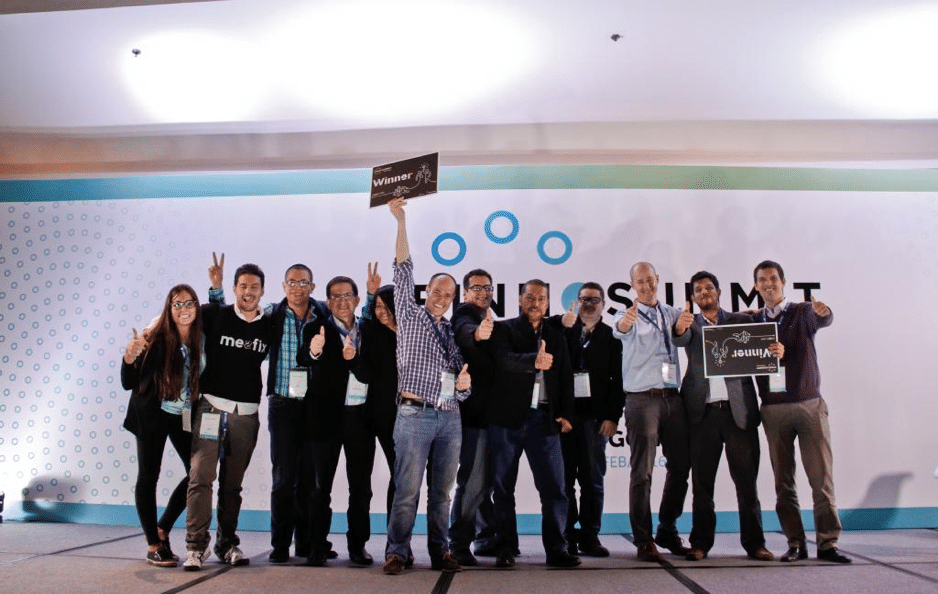 FinnoSummit Challenge Finalist
The hallmark of the conference was the FinnoSummit Challenge with nine of the most promising Fintech startups from the continent pitching on stage. Chile was represented by Blinking – an app that helps SMEs control their cash flow – and Destacame – startup that helps securing credit by creating a risk profile based on bills payments. Destacame was one one of the favorites having won many previous prizes. Coming from  Argentina,  Bondarea was online lending and credit community for micro-entrepreneurs – and Olpays – a secured online payment platform. From Peru was Innovafunding – connecting companies and investors. Finally, Colombia was the most represented countries with the youthful Mesfix – financing businesses that traditional banking cannot – and Woodshares – bitcoins + ecology for social progress.

The winners Aflore and Alegra fighting for financial inclusions
Aflore (originating from the Startup Studio Polymath Ventures) is the first sales network that distributes loans to unbanked people in Latin america. Aflore's COO Manuel Jimenez identified two problems leading to financial exclusion: "distrust for banks from the emerging middle class and banks not serving this population that lack credit history". Aflore will make loans accessible to the unbanked middle class through a network of informal financial advisors who people already know and trust (called Cadenas in Colombia). They are only operating in Colombia at the moment with an aim on scaling their solution in 2016.  Alegra is a software based solution for small and medium companies to manage their accounting and invoicing through the cloud. Their mission is to help SMEs control of their finances.
Is Bogota going to become the Fintech hub of Latin America ? While I think the market in Mexico is more developed today, Bogota is moving quickly with a thriving ecosystem and experienced entrepreneurs coming. For instance BBVA (they recently announced a new $250 million Fintech fund) opened its first innovation centre in Bogota. More so, Colombia is ideally located for regional expansion and the economy has one of the best growth prospects of the region.